by Steven Lamberg, DDS, DABDSM
The Role of Snoring and Sleep Apnea in Contemporary Preventive Medicine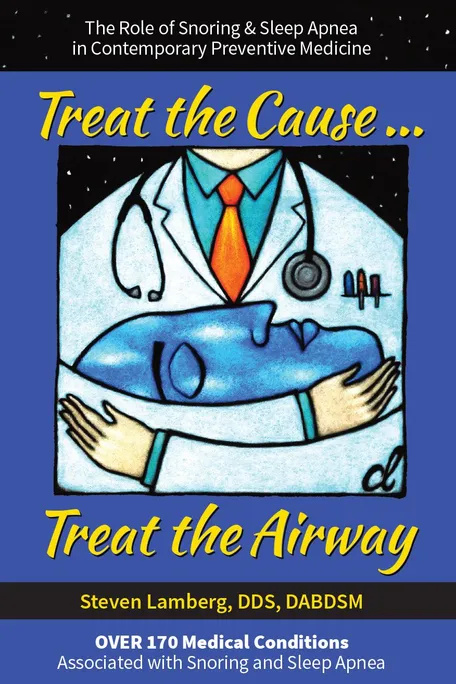 A good night's sleep could be the most valuable gift you can give yourself.
It could even save your life.
Today's culture says we all must exercise and eat the right foods to be healthy. Medical science is showing that the quality of our sleep might be more important than diet or exercise, yet not enough people are paying attention to how they sleep.
Over 170 medical conditions, which include the top 10 leading causes of death, can be caused or worsened by snoring and sleep apnea. Is there a simple way to know if you are at risk for this dangerous condition?
The Lamberg Questionnaire, as you'll see inside, uses your medical history to reveal your risk of sleep-related breathing problems like sleep apnea and snoring.
If you have one or more of these medical conditions, the next step is for you to ask your doctor about testing for sleep apnea and snoring.
You'll be surprised how great a good night's sleep can feel, especially knowing you are taking the best care of your health.
Read more on the Treat the Cause... Treat the Airway Blog.
170 Medical Conditions Associated with Sleep-Related Breathing Disorders Such as Sleep Apnea or Snoring
| | | |
| --- | --- | --- |
| Alzheimer's Disease | Fatigue | Nocturnal Panic Attacks |
| Angina | Floppy Eyelid Syndrome | Nonarteritic Anterior Ischemic Optic Neuropathy (NAION) |
| Anxiety | Fibromyalgia | Overactive Bladder |
| Aortic Aneurysm | Functional Ankyloglossia | Overlap Syndrome |
| Arthritis | Gallstones | Osteoporosis |
| Asthma | Gestational Diabetes | Pelvic Floor Dysfunction |
| Atrial Fibrillation | Gestational Hypertension | Panic Disorder |
| Attention Deficit Disorder | Gestational OSA | Papilledema |
| Attention Deficit Hyperactivity Disorder | Glaucoma | Parkinson's Disease |
| Atrioventricular Block | Gout | Periodontal Disease |
| Barrett's Esophagus | Gut Dysbiosis | Peripheral Neuropathy |
| Bedwetting | Growth Retardation in Children | Pediatric Academic Issues |
| Bipolar Disease | Hashimoto's Disease | Pediatric Behavioral Issues |
| Benign Prostatic Hyperplasia | Headaches | Pediatric Social Issues |
| Breast Cancer | Hearing Loss | Periodic Limb Movement Disorder |
| Cancer | Heartburn | Preeclampsia |
| Cardiovascular Disease | Heart Attack | Pregnancy Rhinitis |
| Celiac Disease | Heart Disease | Prediabetes |
| Cerebrovascular Disease | Heart Failure | Prehypertension |
| Cerebral Small Vessel Disease | High Blood Pressure | Premature Death |
| Central Serous Chorioretinopathy | Hypercoagulable Disorder | Preterm Delivery |
| Chipped Teeth | Hyperhydrosis | Pneumonia |
| Choking at Night | Hypothyroidism | Post-Traumatic Stress Disorder |
| Chronic Cough | Irritable Bowel Disorder | Polycystic Ovary Syndrome |
| Chronic Eye Irritation | Irritable Bowel Syndrome | Postnasal Drip |
| Chronic Headaches | Insomnia | Prostate Cancer |
| Cluster Headaches | Irritable Mood in Morning | Psoriasis |
| Chronic Kidney Disease | Ischemic Stroke | Psychosis |
| Cognitive Impairment | Juvenile Idiopathic Arthritis | Pulmonary Embolism |
| Congestive Heart Failure | Keratoconus | Pulmonary Hypertension |
| Chronic Obstructive Pulmonary Disease | Kidney Disease | Rheumatoid Arthritis |
| Coronary Artery Disease | Leg Cramps at Night | Rhinitis |
| Crooked Teeth | Leaky Gut | Sarcoidosis |
| Crohn's Disease | Left Ventricular Hypertrophy | Scleroderma |
| Decayed Teeth | Low Testosterone | Schizophrenia |
| Decreased IQ in Children | Laryngopharyngeal Reflux | Shortness of Breath |
| Decreased Libido | Lung Cancer | Sjogren's Syndrome |
| Deep Vein Thrombosis | Macular Edema | Sleep Bruxism |
| Depression | Major Depressive Disorder | Snoring |
| Dementia | Malocclusion | Squamous Cell Carcinoma |
| Dental Malocclusion | Memory Deficit | Stroke |
| Diabetes | Meniere's Disease | Syndrome Z |
| Dizziness | Metabolic Syndrome | Systemic Lupus Erythematosus |
| Diabetic Neuropathy | Micrognathia | Telogen Effluvium |
| Difficult Pregnancy | Misaligned Jaws | Temporomandibular Disorders |
| Dry Eye Syndrome | Multiple Sclerosis | Tinnitus |
| Ear Pain | Myasthenia Gravis | Thrombophilia |
| Eczema | Myofacial Pain | Tooth Erosions |
| Elevated Cholesterol | Nasal Congestion | Transient Ischemic Attack |
| End Stage Renal Disease | Nonalcoholic Fatty Liver Disease | Type 2 Diabetes |
| Endothelial Dysfunction | Nonalcoholic Fatty Pancreas Disease | Ulcerative Colitis |
| Enuresis | Nonalcoholic Steatohepatitis | Urgency Incontinence |
| Epilepsy | Neurobehavioral Problems | Ventricular Hypertrophy |
| Erectile Dysfunction | Neurocognitive Impairment | Ventricular Tachycardia |
| Esophageal Cancer | Nocturia | Vertigo |
| Executive Function Impairment | Nocturnal Arrhythmias | Weight Gain |
| Excessive Daytime Sleepiness | Nocturnal Angina | Worn Teeth |